Notes on Digital Audio Workstation
Set up and workflow
Software used
Ubuntu Studio 16.04
Ardour 4.6.0
QjackCtl 0.4.2
Calf JACK Host 0.0.60
Guitarix 0.34.0
Set up
Look for configuration files at dotfiles.
GSR180BK.slap_pop_00 -> BAF-006.main.balanced_out -> Scarlett_2i2.bass_guitar_microphone_00 -> PC (USB)
Headphones output of Scarlett 2i2 -> Speakers, to record video with audio.
ASUS Eee PC 1005HA running Ubuntu Studio (see section Installation) 16.04.
Disable network devices: Left click on network icon on panel, uncheck Enable Wi-Fi. Left click on network icon on panel, uncheck Enable Networking.
Disable Bluetooth: Left click on bluetooth icon on panel, left click on Turn Bluetooth Off.
Start PulseAudio Volume Control
Start QjackCtl, load configuration in_2i2_out_headphones_01 and start JACK server.
Start Calf JACK Host and open slap_pop_00.
Start Guitarix and load preset slap_pop_00 from bank bass.
Copy Ardour session template record-single-bass-track. Start Ardour and open such new session.
Connect audio ports in QJackCtl. No connections in MIDI and ALSA tab.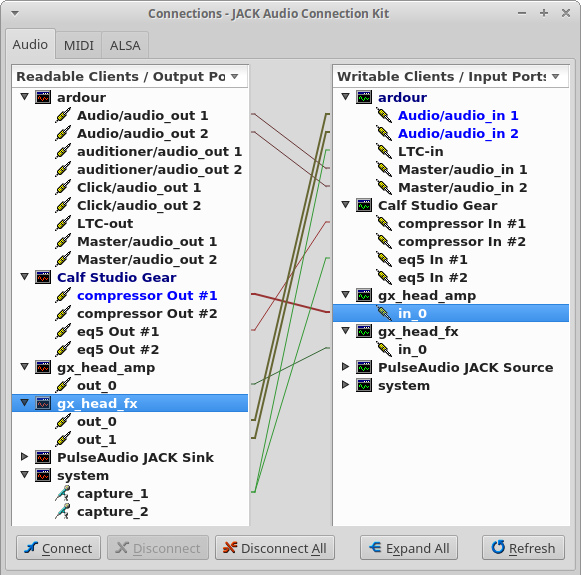 Workflow
On Ardour, for each record track session, arm the track, arm Ardour itself and start recording by clicking on button Play. When done, click Stop.
During recording, watch the LED on the 2i2: green is OK, red is clipping. Also watch for XRUNS on Ardour and QjackCtl.
Record using guide track using player independent/external to the DAW, like a smartphone with earphones. It's better if the guide track is panned completely to a single channel so that the person recording can use 1 earphone only while listening with the other ear.